Reflect.  Reset.  Re-focus
What's your new year's resolution?
The first week of January each year is a time where we all typically take a moment to reflect upon the 12 months that have just past, set new goals (or reset existing ones) and re-focus on what is important to you for the year to come.
So with the first official full week of squad training for the year now upon us, and the first race of the new year just around the corner, I thought it was timely to take a moment to reflect, reset and re-focus for a huge 12 months that is to come.
1.        Reflect – Becoming an Ironman
Just over 3 years ago I attended my first squad Christmas party.  Apart from being incredibly amused by some of the "tight & bright" costumes on offer (and more than a little bewildered at the sight of Mark Turner in a dominatrix outfit),my most vivid memory of this afternoon in the sun was meeting and chatting with some of the squad members who were about to embark on the final 12 weeks of training for the New Zealand Ironman.  I recall the conversation going something like this:
"Run it past me one more time", I asked.  "You are going to do what?  Swim 3.8km ride 180km and THEN run a MARATHON???"
"You are obviously nuts.  I will never, ever, ever do that!"
At this time, I had not ever signed on for, let along completed, a sprint distance triathlon.
Famous last words?
On 9 December 2012, I had the privilege of reaching my goal for 2012: completing the Busselton Ironman (in a time of 11 hours and 43 minutes … and about 57 seconds … but hey, who's counting?!)
I could write pages about the many things that happened during those 11 hours, 43 minutes and 57 seconds on 9 December 2012.  But in the interests of brevity, here are my personal highlights:
The swim
Whilst making my final preparations for the start line (and seriously reconsidering my
sanity!) I saw a team of scuba divers get ready to enter the water.  "Great" I thought, "underwater cameraman to capture evidence of my less-than-perfect swim style".  However I noticed that they weren't carrying any camera equipment.  And then it dawned on me … I said a little prayer that the sonar signals attached to the backs of these scuba divers would do their job and keep Western Australia's notorious aquatic residents (ie, the Great White Sharks) away from the Busso jetty long enough for us to all get through the 3.8km ocean swim.  It wasn't the most settling way to start off the day!
I am not the greatest swimmer.  I often feel like every swim session is a challenge and, although I have learnt to really enjoy swimming, I never feel truly comfortable in the water. So, the second highlight of my swim was the end of the swim!  I did a solid time (for me … it's all relative!) and felt relaxed – it was good start.
The ride
The ride had some really tough moments.  To be honest, I got bored.  And just 20 minutes in, I started to worry about how on earth I would keep my mind on the task for the next 6 hours.
Luckily, around that time I had my first encounter with the official Tri Alliance photographers and members of the TAQ cheersquad, Paul Moore and Mike "the ZinkAUT" Zinky.  The cheer I got was massive and made me laugh.  Another 20 minutes later, and I found my name being called from all angles as I rode past Adrian Cross on one side and the "mother's group" of Sarah and April Jones and Beth and Elsie Pierce who had made the trek out in the searing sun to be on the bike course to cheer us on, with the little ones in tow.  Just around the corner, and there was the Melbourne Tri-Alliance cheer squad who let out an enormous roar anytime anyone in the blue, white and gold road past.  Another couple of kilometres, and there was Taryn Swan standing in the middle of a round-a-about.  And there she stayed for over 6 hours, clapping, cheering and willing us all to keep going.  Leah Fullerton and Del Thistleton hung over the barricades, arms waving, smiles broad.  Mel and Jack Kepper, and Lisa Venn and all the Venn kids were there, jumping up and down at the sight of a TAQ athlete.   But the best was yet to come: on the turn-around in town there was the formidable cheer squad of Eve Lawson and Shelley Marriott – you could hear them before you could see them!!
As I turned around at the end of lap 1 and headed back out the course with 120km to go, I decided that all I had to do was ride from cheer squad to cheer squad.  I knew that if I could just do that, every time I saw one of the Team Tri-Alliance Giant t-shirts I was guaranteed a laugh, a cheer, and an encouraging word to just keep going.
I can't speak highly enough of the fabulous supporters who made the trek over to WA to stand in the 30+ degree heat for 17 hours to cheer us on that day.  The support was overwhelming.   You were all quite simply awesome.  Thank you.
The run
As I ran out of transition, I started a hypnotic mantra:
"This is NOT a marathon.  Do NOT think of it as a marathon.  It's just four 10.5km laps.  One foot in front of the other.  Easy."
And so I ran, and ran, and ran … and ran.  It was hot, and I was tired.  But once again the fabulous Tri-Alliance army kept me going.  Whether it was the amazing cheer squad on the sidelines, or my squad mates yelling an encouraging word as we crossed paths, they all kept me shuffling forward, one step closer to the finish.
On the last lap I started doing the maths – just how slow could I go and still come in under 12 hours? After remembering that my grandparents used to walk 6km in 1 hour, I decided it was time to toughen up, and just get it done.
On a lap course like Busselton, you get a different coloured bracelet at the conclusion of each lap.  The idea being that you might just be too delirious to keep count of your laps.  So the colour banding system does it for you.  Without a doubt, the best volunteer job in Ironman is the lady who got to hand out the black bracelets because when you got a black armband it meant that you had completed lap 4 and it was time for you to take a left hand turn and run the last 500m down to the finish line.
The joy that receiving a black bracelet brings on is beyond words.  I am sure that throughout the course of the day that volunteer received hugs, kisses, perhaps even marriage proposals!  For my part I stopped briefly, gave her a sweaty hug, said thank you, and kept running, afraid that if I stopped for too long I might not get going again.
And then came the finish.  It was a total blur.  But the greatest moment of the whole day was to see Andrew waiting patiently just beyond the finish line to welcome me home.
The aftermath
Triathlon is a sport of 4 disciplines and not 3 – the fourth discipline being the after party!
There was much to celebrate for the Tri Alliance crew at the after party the next day.  It had been a tough race, with the wind and heat making for a challenging day of racing in which over 10% of those who started failed to finish.  But of the 26 Queensland athletes who entered the water that Sunday morning, all 26 of us crossed the finish line – an amazing achievement that is a tribute to the hard work the entire coaching team do week in week out with our squad..
The after party was attended by the usual shenanigans – TimO led the dance floor; Franklin did the worm.  But the absolute highlight was seeing my training buddy, Tri Alliance life member, and all around wonderful lady Alicia Newman take the stage and accept her trophy for third place.  When that happened, we were "that table" – loud, rambunctious and standing on our seats to cheer the house down for the first ever member of Tri Alliance Queensland to take the podium in an Ironman.  Without a doubt it was the highlight of my ironman experience.
2.      Re-set
2012 is now done.  It has been a massive year.  New faces, new races, and even a new squad name!
From those who represented their countries, to those who dusted off their old push bikes and gave their first ever Enticer race a go, goals have been set and smashed by the Tri Alliance Qld athletes.
Now is the time to have a think about setting new goals for yourself.  What would you like to achieve this year?
For me, after a month off I have finally decided that it is time to unpack my bike, dust off my runners, and find where I stashed my goggles after the last race.  After an indulgent Christmas break, it is time to get moving again.
My focus for the next couple of months will be working towards doing my third Cairns 70.3 in June.  Between now and then I will have a hit out at Qld Aquathlon, jump in a team at the Mooloolaba Tri and fly the flag at the Qld Sprint Championships.
Post June, I have set my eyes on a new challenge on the horizon ….
3.      Re-focus
In September 2013, I will saddle up and join the team from Smiling for Smiddy in a ride from Brisbane to Townsville.  1600km on a bicycle over 8 days.
So why on earth am I doing this?
In 2012 I watched three of my dear friends bury their parents after hard fought battles with cancer.  I also watch my own father receive the news that his battle with melanoma had upped the ante, with the cancer reaching an aggressive stage.
Our sport can be selfish at times.  We frequently sacrifice time with friends and family for training in order to try and achieve the personal goals that we have set for ourselves.
For me, 2013 is a time to re-focus slightly and take action in the face of the growing effect that cancer is having upon the lives of those I love.  So over 8 days in September, I will ride 1600km up the road.  In the lead up, I will be working hard to raise over $5,000 to help support the cancer research being undertaken at the Mater into melanoma and other crippling cancers.[1]
I am well aware that the amount that I as an individual can raise is but a drop in the ocean.  That's why I was simply delighted to read Mark & Suz's announcement that in 2013 the whole of Tri Alliance would be getting behind the Smiling for Smiddy foundation.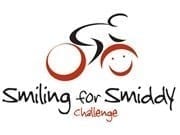 As a squad we are aiming to raise $100,000 by the time we hit the start line at Noosa 2013.
Seem like a lot?
Think about it this way: to get there, all we need is for 100 people to raise $1,000 each.  All that takes is just 100 of your Facebook friends to donate $10 to your fundraising efforts and we are there.
I have no doubt that together we can do this and make a huge contribution towards helping to reverse the statistics on cancer fatalities in our community.
Do wait, go to http://www.smiddyfundraising.com.au/event/tri-alliance and sign up today!
Happy New Year everyone!  Roll on 2013.
[1] To find out more about my journey from Brisbane to Townsville, have a look here:  http://www.smiddyfundraising.com.au/claire_schneider