MOOLOOLABA TRIATHLON
Along with Noosa, the Mooloolaba triathlon festival is the biggest in Australia.  It is not just about the age group race on the Sunday but a whole weekend of racing and events.
As usual we'll have a big group of members racing hoping to translate their work of the last few months into a good result. The Tri Alliance tents will be there and for the first time we'll have new members from the Sunshine Coast squad join us.
We will also be welcoming some members from the Cairns Crocs Club competing at Mooloolaba to the tents.  Be sure to say hello and make them feel welcome in our backyard. They will extend the invitation when we head to Cairns in June.

Assisting on race day will be the team from Performance Physio and Rehab at Mooloolaba who will be available for massage and physio for Tri Alliance members www.rehabphysio.com.au. We'll also have plenty of room for friends and family to watch all the action.
Training wise those members racing will have an easier week to freshen up and ensure they're 100% for the race.  Post race we'll be having a get together at the Mooloolaba SLSC from 3pm Sunday to share war stories and enjoy the spoils of success.
TRAINING CAMP -LONG COURSE
Thursday 24th April– Sunday 27th April 2013
Peregian Beach, Sunshine Coast, Queensland
$490 members, $510 non-members
The April 2014 Long Distance camp is targeted at those athletes working towards the 70.3 and Ironman Cairns events. The camp is located at The Retreat in Peregian Beach near some of the best cycling routes Queensland has to offer as well as the renowned trails of the Noosa National Park.
The Long Distance Camp will commence on the Thursday morning and finish on the Sunday around lunch.
What is included?
• 3 nights accommodation;
• Lunch Friday and Saturday;
• Dinner Thursday and Friday nights;
• Tri Alliance camp pack;
• Support vehicle on long ride;
• Open water swimming, cycling and run training;
• Race planning and nutrition information;
• Tips on how to tackle the Cairns Course;
• Course details, intensity, strategies and tips; and
• Learn from experts in the industry!
The camp schedule and registration link is at http://qld.tri-alliance.com.au/qld-training-camps-2/  
LONG COURSE TRAINING SESSIONS
Now that we are getting closer to the Cairns event and with a big team of athletes heading to Cairns again there will be more specific long course sessions on the Calendar.  These will include:
– Saturday morning long rides starting March 22nd. They will be self sufficient non coached rides with a group meeting point and suggested route.  We will also be joined by some of the athletes training for Smile for Smiddy events later in the year.
– Brick session at Lake Hugh Muntz, Mermaid Waters on Sunday April 6th. This will be a swim, bike and run session of approximately 45 min swim, 3-4 hour ride and 60-75 min run for both the 70.3 and IM athletes.  These sessions are a great opportunity to practice your fueling and pacing strategies
– Training camp as listed
– Long ride on Saturday May 17th of 200km for IM athletes and approximately 120-140km for 70.3 athletes. There will be support vehicles for this ride with it starting at Chermside and finishing at Caloundra via Mt. Mee, Woodford, Malaney and Maroochydore.
CAIRNS ACCOMMODATION PACKAGE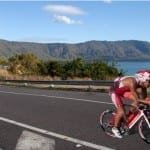 We have had some great interest from members so far in our accommodation package.  We do need to finalise and confirm final numbers soon so if you are interested please register on the registration page on the website.
The cost is $900 for single room or $500 for twin share and includes:
5 nights accommodation in 3 bedroom apartments on Spence Street in the Carins CBD.
Airport transfers (for arrivals/departures between the 5/06/2014 and 10/06/2014).
Transfer to/from transition areas for bag dropoff/collection.
Race day assistance for supporters.
BBQ breakfast on the Monday morning after the race.
ROCKET SCIENCE ELITE SUITS
If there is enough interest we will do another order of the elite Rocket Science suits in time for Cairns.  We do need a minimum order for the one and two piece suits. If you are interested please e-mail [email protected]
CHALLENGE GOLD COAST SWIM SESSION
On Saturday April 5th new Tri Alliance coaching team member and elite ITU athlete Shane Barrie will be taking a swim session around the new Challenge Gold Coast course.
Shane was first out of the water at Noosa and Nepean triathlons in 2013 and has extensive coaching experience at SLSC level and open water swimming.  The session will run from 10am -12pm and tides will be the same as race day. We will have water safety and IRB's in the water plus buoys in the water so people can swim the exact course and pick up some tips from Shane.
There will be a bbq lunch to finish the day which family and friends are welcome to join. The start area at Currumbin is a beautiful part of the Gold Coast so for those travelling from Brisbane or the Sunshine Coast it is well worth the drive.
Cost is $15 for members and $25 for non members. Go to our registrations page to book in
ARTICLES
Tri Alliance male ambassador Geoff Bartlett and head coach Mark Turner have penned a couple of great articles lately that are worth a read.
Go to http://qld.tri-alliance.com.au/blog/2014/03/10/tri-alliance-ambassador-blog-geoff-bartlett/ and http://qld.tri-alliance.com.au/blog/2014/02/27/coaches-corner-2/