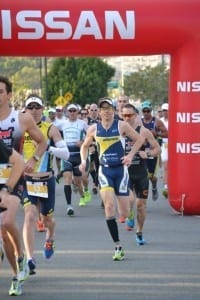 First off, I'd like to start by saying how privileged I feel to be bestowed with the title of male Tri-Alliance Queensland Ambassador for the 2013-14 triathlon season.  I know there are many wonderful, not only triathletes out there in our squad, but also people who would have done a sensational job in the role given the opportunity.  That said I am really looking forward to helping Tri-Alliance Queensland move forward in this wonderful sport of triathlon in whatever way I can.  It is with a sense of nervousness that I sit down to write my first blog as the male ambassador.  I find it tremendously difficult to talk about myself and as such, in the benefit of limiting my embarrassment mostly, I will try to keep this article as succinct and relevant as possible.
Wow!  It doesn't really seem that long ago that fresh faced (at least that's what I thought anyway), naïve so-called athlete rocked up to the beginner course on the Gold Coast.  I remember it being a particularly daunting experience but also one that was mixed with excitement and a sense of determination.  Triathlon has always been a sport that has interested me but the thought of actually taking that first step towards actually doing it seemed the hardest.  As the students in my year 6 class can attest to on a daily basis (much to their frustration and annoyance at times) 'The journey of 1000 steps begins with a single one".
With that thought ringing in my head I headed to my first run session at the Sports Super Centre at Runaway Bay to be greeted by Coach Suz.  It was from that moment that I was hooked and although the competitive instinct has always been a big part of my love for triathlon and endurance sports; the main reason that I have remained with the squad since since that first day 16 months ago has always been the camaraderie and mateship between our Gold Coast Tri Alliance members.  This belief has only ever been further enhanced as I have come to meet our fellow Brisbane squad members at races, camps and most importantly (some would say) at social functions.  If it wasn't for this camaraderie I don't think I could have faced the cold, early morning training sessions and the barking orders of Coach Mark. To me the destination (race day) has never really been my primary goal.  It certainly has its place and is definitely rewarding but the people along the way who have shared in my successes and the failures have kept me in the sport and coming back for more torturous Main Beach fartlek sessions.
I'll always remember a time not that long ago, just after the Tallebudgera camp 2012 that two fellow squad members engaged me in conversation at the local watering hole about my reluctance to get out on the road riding.  I was faced with a severe lapse in confidence as a result of an inability to ride with any sort of ability.  I had no strength and no fitness on the bike what so ever.  Yes, I'll say it; I was shit and was contemplating giving the sport away to tell you the truth.  I could run and could swim but because of the time required on the bike in any distance (sprint, Olympic etc.); it just all seemed too hard; especially because anytime out on the road was a solitary experience.   I would come to the realisation later that the solitary element of the sport is one of its most magical elements.  It was from this discussion at a Hope Island pub that Jason Teren and Sam Beh (thanks guys) really stepped up to make sure that my triathlon experience was a much more of a complete package.  The very next day they had me out on the road, guiding me through the do's and don'ts of riding etiquette.  Furthermore, Sam and Jason helped establish a confidence that would see me riding in a pack on a much more consistent basis.  That spirit of friendship and encouragement is what Tri Alliance Queensland has encapsulated exceptionally well between its club members.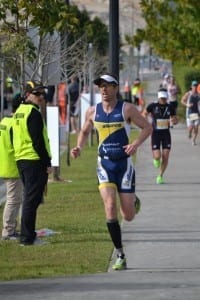 As I think back now I realise that my own journey into Triathlon 16 months ago was really about finding a way out of a rut I was in with my running. I have always enjoyed running but was struggling with motivation and the realisation that my own times were plateauing. I was convinced that the way I was doing things was effective and structured appropriately to produce some quality personal best times.  It wasn't until that some consistent, personalised training from our esteemed coaches (Mark, Suz and Dean) combined with a sense of self-belief did anything start to change.  One thing I've come to realise more than anything else is how big a role sport psychology plays in performance. I've found it particularly refreshing that the coaching is individualised and focused on the strengths of individual athletes and does not follow a one size fits all rule.  Mark, in particular, has given me the confidence to believe that the future is bright and that I can achieve great things with consistent training and a positive self-belief.
Well anyway that's enough about me…time to sign off.  Finally, thanks for taking the time to read my first blog and hopefully you got something out of it. I'm really looking forward to the year ahead and can't wait to share in the triathlon stories of all our club members.  Whether you're new to the sport or a seasoned veteran we are all united by our love of this sport and its lifestyle.
Happy training!
Geoff Bartlett