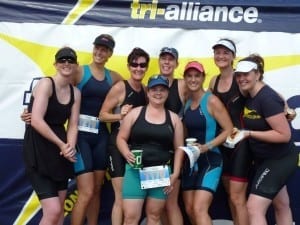 The crowd roars, my heartbeat thunders in my ears…I round the corner and I am in the finish chute.  Thirty metres to the finish line… twenty metres… ten metres.  I can hear my name being chanted by the masses "EMMA! EMMA! EMMA!"  I see my new friends cheering me on wildly.  I cross the finish line as a champion, not in my age group…but in my own mind.  Winning!
Raby Bay Triathlon was the culmination of six weeks of early mornings and sore muscles.  We began as nervous newbies and finished as champions.  Over six weeks we were taught the basics of triathlon in a supportive, safe and fun environment.  We were introduced to the main squad and made to feel part of the team.   Our coaches monitored our progress through the six weeks, pushed us when we needed pushing and provided encouragement the whole way.  As well as being encouraged by our coaches, we also cheered each other on.  High-fives, after training coffee and lots of laughs were all incentives for getting out of bed when it was still dark.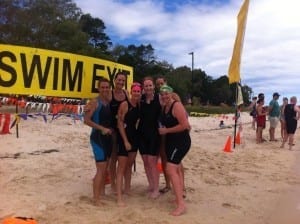 As well as providing a physical challenge, the beginner program challenged us mentally.  We were encouraged to step out of our comfort zone in order to improve.  A standout example of this was our first open water swim at Redcliffe.  The sea was churning, the wind was blowing, and the skies were overcast.  We were all secretly thinking "Should I get back in the car and leave before the others see me".  We didn't leave; we stayed and gave it our best.  For some of us, an open water swim is scary in the best of conditions.   Coach Mark said at the end of the session that if the conditions had been any worse, any race would have been called off.  Another beginner and I were the last ones out there, trying to swim through the crashing waves to the buoy that seemed to be inexplicably moving further away.  A team mate stuck with us the whole way, encouraging us and letting us know we were not on our own.  We made it back to shore and it was an emotional achievement.
If you too want to experience a sense of smugness about the fact that you are out exercising as the sun comes up whilst mere mortals are slumbering in their beds, then join the Try-the-Tri program.  You too can be a superstar.