One on One Swim Coaching
Tri Alliance one on one swim coaching is a fantastic way to improve your swimming through personalised feedback. You can't get more personalised than having a coach watch your every stroke, providing you with instant feedback and drills/guidance for you to take away and work on.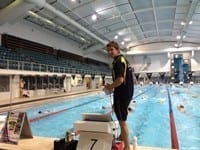 You will have a lane to yourself where our technique coach Ryan will analyse your stoke and discuss your technique flaws and discrepancies with you. Video analysis and feedback will be used to assist you in understanding where your technique flaws lay. From here you will undertake a series of drills which will address and correct your stroke flaws. Following the session you will receive a follow up email outlining all concepts discussed as-well as a sample session for you to complete
Details
Session: 1 hour in duration
Cost:
– $120 with the lane hired and coaching from the pool deck
– $80 with the coach swimming with you and coaching from within the lane
*Please note that one-on-one sessions are held at Melbourne Sports & Aquatic Centre and times/dates are to be confirmed with our swim technique coach.
Email [email protected] for more information
CLICK HERE to book a One-on-One Swim Session and work on your weaknesses today!
Wanting a COMPREHENSIVE VIDEO ANALYSIS with full access to your video and drills plus a sample program provided. Check out our Video Analysis sessions