Tri Alliance Western Australia Coaches
From the Coaching Team…
Tri Alliance WA – your triathlon training needs in south west WA. Our coaching team consists of experienced and professional coaches all with extensive athlete and coaching experience, ready to impart their knowledge and experience onto you!
One area that our coaches specialise in is balancing the demands of training as an age group triathlete. They know what it is like to balance training/racing around family, work and life. Getting the best results as an age group triathlete is all about maximising your training time and our coaching team live it and know how to help others achieve it.
To allow others to share in the experience, thrill, excitement and sense of achievement in competing in a triathlon is what coaching is all about. Our squad has a diversity of athletes, ranging from beginners to advanced, juniors through to those who have competed for 10+ years, represented Australia and competed in the ultimate challenge – Ironman.
Tri Alliance has a fun, social and welcoming atmosphere, new athletes are embraced and welcomed by both our coaches and existing athletes. Our coaching and training philosophy is proven, with numerous athletes over the years competing at the highest levels.
We aim to draw the best out of you as an athlete, challenging you both physically and mentally, helping you reach your health, fitness and triathlon goals in a supportive team environment. So whether your goal is to get fit, maintain a healthy lifestyle or reach your triathlon goals, we can help you get there. We look forward to sharing the experience with you and being be part of your success.
Coaching Team:
Arron Robertson
Arron has been involved in triathlons since 2009. Originally from an open water swimming background, moving across to triathlons after swimming the English Channel. After competing on most continents competitively, Arron now coaches all three disciplines and is passionate about helping others achieve their own personal goals.
Qualifications
Achievements
Several AG state champs in sprint- Olympic
Duathlon and aquathon
Australian AG tri representative
4 solo Rottnest crossings
English Channel solo crossing 2008
Greg Salter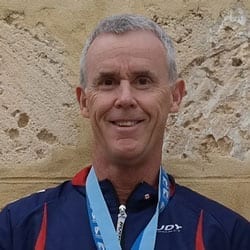 Greg is the State Co-ordinator for Tri alliance in WA. Greg commenced triathlon in the early 1990's and was a member of the Australian Olympic distance age group team in Muskoka, Canada in 1991. He gave up triathlon to raise a family and recommenced in 2011 and has been selected in successive Australian age group teams over Aquathlon, Sprint and Olympic distance. In 2014 Greg achieved an Australian age group first as one of two triathletes to podium in all three events at the same world championship. As a mature age coach, Greg is very conscious of the need for correct preparation, injury management and recovery and the individual circumstances of each athlete. Greg has been coached by several world class coaches including Australian National Talent Academy coach Dan Atkins (for Edmonton world championships) and Simon Jones (for Auckland world championships) formerly head of WAIS cycling and of endurance sports at the English Institute of sport and now a coach with team Sky in England.
Qualifications
Level 1 Triathlon Coach
Achievements
Muskoka M35 -39 Australian age group Olympic distance (3rd Australian)
Beijing  M55 – 59: Australian age group Aquathlon and Olympic distance – broke collarbone in Beijing 3 days before the first event.
Auckland M55 – 59: Aquathlon (3rd  in age group), Olympic distance (3rd)
London M55 – 59: Aquathlon (7th) Olympic distance (15th)
Edmonton M60 – 64: Aquathlon (2nd) Sprint (3rd) Olympic distance (3rd)
Qld state age group titles in Olympic and sprint distance (2012 -14)
SA state Olympic titles Victor Harbor (2012 and 2014)
NT state Olympic distance qualifier age group winner (2012)
Multiple WA state age group titles over Aquathlon, Duathlon, Sprint and Olympic distance (2011 – 14)
WA triathlete of the year M55 – 59
North Coast Tri club champion in first year back
Topped Tri Australia point score with maximum 100 points for age group Australian team qualification on two occasions.