Tri Alliance Tips & Tricks Clinics
Our Pre Race Tips & Tricks Clinics are informative and highly recommended for those who have not completed a triathlon before, haven't raced at the race venue, haven't been to our Tips & Tricks Clinic before OR simply need a refresher! Tri Alliance will have a number of Coaches on hand to assist with your queries before and after the clinic which are held the Saturday before each race of Victoria's Premier Triathlon Series – the Gatorade & Active Feet Tri Series.
Details:
Held at 12:30pm on the Saturday before each race, meet at the the Tri Alliance Marquee (fondly known as the TA TAJ) which will be located near the event registration area.
Cost: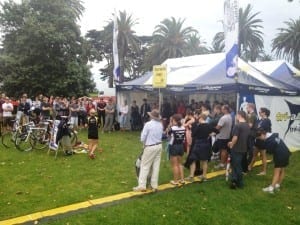 FREE!
What you will learn:
What to expect on race day
How to prepare for your race
What to eat pre/post-race
Tips & tricks on making your transitions seamless
A walk through of the transition area so you know where (and how!) to locate your bike
Plus loads more!
Make sure you bring fluids if the weather is going to be warm as you want to keep hydrated, and dress appropriately to the weather.
RESERVE YOUR PLACE TODAY!
Registrations are required, so make sure you register today and we'll send you further tips and information leading into your race PLUS you will receive a weeks FREE training!
Registrations close 12noon on the Friday before each race – so register now to avoid missing out!
Race 1 – StKilda, Sund 25 Nov 2012
Race 2 – Elwood, Sund 16 Dec 2012
Race 3 –  Elwood, Sund 13 Jan 2013
Race 4 – Elwood, Sund 3 Feb 2013
Race 5 – Portarlington, Sund 17 March 2013
Race 6 – StKilda, Sund 7 April 2013