FREE Sussans Womens Fun Run Training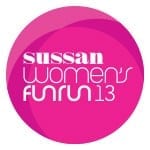 Now in its 28th wonderful year, the Sussan Women's Fun Run remains one of Australia's most popular women's only run/walk events.
Attracting thousands of women of all ages to the St Kilda beach location, the Sussan Women's Fun Run is a true celebration of Sisterhood, encouraging good health, fitness and FUN!
Tri Alliance is proud to be partnered with the event and is offering YOU 6 week FREE run training leading into the event! So get your girls together and come and join our female run coaches for 'fun, friends and fitness'!
Session Details:
Commencing: Monday 23 Sept 2013
Duration: 6 weeks
Mondays: 6:30pm-7:30pm (The Tan)
Wednesdays: 6:00am-7:00am (The Tan)
*Please note this is available to those individuals/team who have entered the event.
Enter your details below to secure your place and our female coaches will be in contact about getting you up and running!
All levels and abilities welcome!
[formidable id=12]