Tri Alliance Running Group Melbourne – FREE TRAINING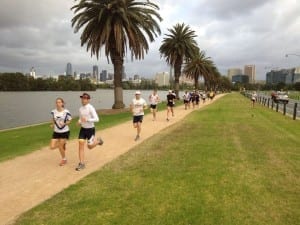 Fun – Friends – Fitness!
Tri Alliance launches a NEW run group based in the Melbourne CBD and Bayside Area!
Our Run Group is designed to cater for runners of all abilities -from beginner runners, through to those searching for a PB or taking the step to a new run distance. We have a variety of sessions available including technique improvement for easier and more efficient running, tempo/moderate runs, strength, hills, endurance and speed. With up to 4 run sessions a week to choose from, our Coaches will help guide you to your goals sooner. All you need is a pair of runners, and we'll provide the rest!
So make the decision today to get fit whilst having fun with friends!
Call us on 1300 680 874 or email [email protected] for more information

Session Details:

Monday 6.30PM – Albert Park Lake – Beginner & Intermediate, Technique/Social/Fun
*Tuesday 6.00AM – Albert Park Lake – Intermediate & Advanced Intervals/Fartlek
Wednesday 6.00AM – Giant Hampton – Beginner & Intermediate, Interval/ Fitness / Fun
*Thursday 6.30pm The Tan – All levels Intervals/Fartlek
Sunday 8.00AM – Various – All Levles Endurance
*These sessions are only available in conjunction with our programs see below
Group Training: 
Simply sign up to our FREE Running eNewsletter
Become an Annual Member and receive FREE group run training sessions – up to 3 sessions a week to choose from!
Access to our Race Day Marquee at selected events with free massage, BBQ and more!
Everyone is welcome to come and train with us plus we have some great membership and programming options available for you if you are looking for something more.
Annual Membership: Join our $99 Annual Membership and you will receive a fantastic Welcome Pack and gain access to exclusive discounts on our Running Camps, Seminars and Courses.
– Partner benefits including 20% off Mizuno Footwear, 10% off at Running Fit, 10% off Lakeside Sports Medicine, discounts on dietetic consultations and more.
– Welcome Pack includes a Running Tee or Singlet, Water Bottle and a Visor. Plus an additional 10% discount on any additional running gear purchased from our Tri Shop. Plus you get to train with us for FREE.

 For health, fitness and run training tips.

Tri Alliance is partnered with events including: