APRIL RECOVERY AND TRANSITION PHASE 2015
For the majority of our athletes April marks the end of the season and time to recover and have some time off from triathlon. A chance to have a break from the 'norm', catch up with friends, have some FUN while still maintaining fitness. So we have again developed a fantastic lineup of sessions and activities during April to allow just that. Sessions will be fun based with a social element, but still allow you to push yourself at times to maintain a base fitness.
For those who are still in training for events such as Port Mac or Cairns, please ensure you speak to a Coach in regards to a specific program to lead you into your events.
WHAT'S ON: THE TIME TABLE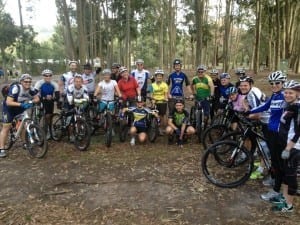 We have plenty of great sessions planned including:
Rock Climbing
Bubble Soccer
Mountain Biking
1000 Steps
Tour de Latte Rides
Goal Setting & Pre Season Motivation
Strength & Conditioning
End of Season Presentation Night Sat 9th May
CLICK HERE to down load full details and printable version of our April Timetable. Please always ensure you keep up to date with any changes to this timetable via our Tri Alliance Victoria Facebook Page.
FURTHER DETAILS:
Swim Sessions: Will continue through April at MSAC, Mentone (wed only) and StMichaels (wed only). Please ensure you check the timetable and are aware which sessions are on and when. Sessions will include fun based activities – be prepared for anything and keep an eye on Tri Alliance Victoria Facebook Page – as you may be asked to bring specific gear to sessions.
Goal Setting  – a must for every athlete. Two nights dedicated to reviewing and setting goals. You must RSVP your attendance to either our Introduction to Goal Setting Thursday 9th April and/or Advanced Goal Setting Thursday 16th April. We have a World Class Professional athlete at each session who has competed at the top – make sure you get this in your diaries now to hear what they have to say.
Strength & Conditioning – Having some fun with 'out of the box' strength & conditioning techniques and skills! For those still racing, you can meet at the same time and complete your run sessions. Please bring your own program.
Tour de Latte Rides Sat am – Riding is all about the coffee – well at least it is for April anyway! Suitable for all riding abilities from beginner to Pro.  Come along for a gentle roll, chat, coffee and breakfast. No T4 efforts permitted.
SUNDAY FUNDAYS!
WHAT IS THE IMPORTANCE OF A RECOVERY AND TRANSITION PHASE?
The Recovery and Transition Phase is an important part of your Training Program and is the last phase of our 5 training phases in our Yearly Planner. Recovery at the end of a racing season is extremely important and will have a direct impact on your training and more importantly—racing, over the next season.
Why?
Physiological Recovery
Psychological Recovery
Immune System Recovery
Recovery from recurring or niggling injuries
Further details on our Recovery & Transition phase can be found in the athlete section of our website. So make sure you have a read to find out more.