2014-15 Female Ambassador
Q. Who is Al O'Toole?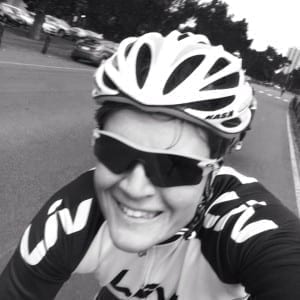 I'm Melbourne born and bred, and currently work in marketing for Don Smallgoods – so if we're sharing a table at breakfast, 'Should I get a side of bacon?' isn't really a question. Outside of triathlon, I enjoy other sports that involve a) spending all your hard-earned on gear & b) getting outdoors. Horse riding & skiing in particular, although I do neither as much as I'd like to. If I ever learn to aim properly at the driving range I might progress to an actual golf course.
The important things: flat whites (the occasional long mac if I'm feeling adventurous), the mighty Blues; the parma is the pinnacle of pub meals & beer should be drunk by the pint (unless you're driving, of course). I've never met a pun or an awful dad joke I didn't like, so please feel free to say hello & share your worst with me.
Q. Share with us your training/racing plans this year.
This is my second season racing the Gatorade series, with some extra Olympic distance races including Yarrawonga & Noosa late last year. Once the season is done, I will be deciding whether to pursue another season of short course racing with the aim of qualifying for short course AG Worlds (Mexico – hello!), or competing in my first half distance races.
And then there's winter training. I'll be looking to build more strength in the hills to ensure I stay at the pointy end of the Lady Bombs crew, & keep up consistent running so I can finish off my races in style come 2015/16!
The winter training camps are a highlight for me, with the opportunity to get miles into the legs in some beautiful scenery, spend time with all you lovely people, & eat double dessert. I highly recommend that everyone takes the opportunity to get along to these camps if possible.
Q. What does it mean to you to be Tri Alliance Victoria's female Ambassador this year?
I'm honoured to be the female ambassador for the club, as the coaches & members of Tri-Alliance have been so welcoming of me as I've started getting to know this great sport. I get so much enjoyment & satisfaction out of training, racing & socialising with all of you, so being able to be a bit more involved in helping new members find their feet is a privilege.
I think triathlon is great in that it doesn't matter your gender, age or level of expertise, we all race the same courses under the same conditions. As a female, being part of a sport & a club where men & women are on an equal footing is really important to me. I enjoy getting involved in initiatives to encourage women to get out & have a crack (from our own Lady Bombs crew, to the great work being done by Liv, the Womens' 100 ride, & the community gradually growing at witsup.com), so I'd like to encourage others from TA to get involved as well!
Q. When did you start with Tri Alliance and how has your experience/journey with us shaped you?
While watching mates complete Tough Mudder a few years ago, I decided I wanted to have a go – but realised that I was far too unfit to do it. That somehow flicked a switch & 12 months later I was standing in an orange headband, covered in mud, thinking 'What next?'.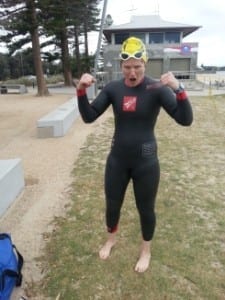 As luck would have it, a new exec at work decided we should compete in the corporate tri; clearly some practise was needed to ensure I looked pro & retained a level of professional respectability. The opportunity to complete an Active Feet mini beforehand presented itself & I went along to the Tips & Tricks clinic, gaining some valuable advice for my triathlon debut. Elwood turned on a shocker of a day, but I was smitten with the sport & haven't looked back since!
That Tips & Tricks session became a week's trial membership, which became permanent, & with a short timeframe my lycra collection had exploded, I'd gained an understanding of what things like '4×50 T4 on the 1.15 PB' meant, & begun to consider it completely normal to get up before 6 on a Sunday morning to cycle to Frankston.. The last point my pre-tri friends still find difficult to get their heads around.
Tri-Alliance has been a great addition to my life – I've formed plenty of great friendships, been supported to push myself physically in ways that seemed impossible not all that long ago, & found a lifestyle that keeps me active & spending plenty of time in the fresh air…got to love that, even when it's raining.
Q. What are 3 pieces of advice you can give to anyone starting out their own journey with Tri Alliance?
1. Find the balance that works for you. Ultimately, regardless of what got us into triathlon or how lofty our ambitions are, we are doing it because we enjoy it. Having goals & training consistently in a way that lets us achieve those goals is important – but so is the rest of life! The training you can do, do whole-heartedly, & then when you do want or need to miss a session or two, you can do so without feeling like you're sacrificing your tri goals.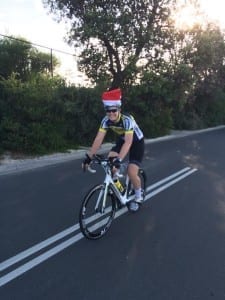 2. Embrace the social side of the sport & the club. Tri-Alliance is full of fantastic people, all of whom were brand new once too. Attending team meetings, smashing a big brekky after long rides, going on training camps, volunteering at events, & coming along to post-race or end of season drinks – all great ways to get to know your fellow athletes & ensure you've got company to help push through those long winter months of training!
3. Listen to your body & talk to the experts. If you're new to endurance training, especially with three sports involved, you'll soon find out that the body reacts in all sorts of ways. You'll see big gains in fitness, strength & skill, which feels fantastic, but also some challenges – niggles, aches & pains, winter sniffles & far more familiarity with chafing than ever expected or hoped for. It's important to learn what is discomfort that you can push through, & what needs to be checked out properly or rested to avoid any serious setbacks. We have plenty of experienced people – the TA coaches, the team at Lakeside Sports Medicine, Margs at Fuel Right & others, all of whom are worth seeing to make sure you are looking after yourself as well as you can.